Thank you for choosing Gorham Scout Ranch for your camping activities! We had such a blast getting to hang out in person again this summer as we retuned to in-person camp. Next year will be even more fun as we learn more about dealing with the pandemic and get back into expanding the Scouting Adventure we all love. Join us in 2023 as our nationally accredited camp (NCAP) continues to offer amazing program for Scouts of all ages.
The full Leader's Guide and program schedule are available here!
Please contact us with any questions or concerns at gorhamscoutranch@gmail.com; we are happy to help!
— Gorham Scout Ranch Leadership
2023 Summer Camp Dates:
Want to join our adventure at camp and be on Staff?
Come work at Gorham this summer! There's no better way to have an unforgettable summer than by exploring the wilderness at camp. Find more information and the 2023 Staff Application here!
---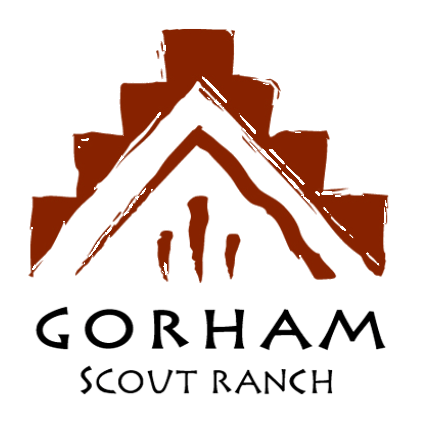 ABOUT GORHAM SCOUT RANCH:
Gorham Scout Ranch, formerly Camp Frank Rand and Chimayo Scout Reservation, was established in 1972 as a center for outdoor skills training, high adventure, and FUN! Our camp is located on 2,650 acres of high-desert beauty in the foothills of the Sangre de Cristo Mountains of New Mexico in addition to being a nationally accredited camp (NCAP). The rolling hills of piñon, ponderosa, and juniper will captivate the mind and enchant the spirit.
Somewhere, someplace, sometime in the maze of schedules, the rush of activity, the intensity of excitement, and the attention to duty, come moments of deep value and lasting impressions in the camping experience. These values and experiences are not written into the program, and they cannot be given a money back guarantee because they are priceless.
We, as camp staff and Scout leaders, have the role and duty to help each other establish the tone within the program and help to create an atmosphere that will result in meaningful camping experience for the Scouts entrusted to our care. It is the commitment of our staff to help you and your Scouts experience the adventure that is Scouting, and to do such in our beautiful great outdoors.
Last summer, Gorham Scout Ranch opened our Cowboy Action Shooting Range. This program joins ATV Adventure and the COPE program as part of the offerings available for older Scouts coming to camp.
We are most excited to again host Boy and Girl Troops for the coming summers. Our program and facilities are ready for all future Eagle Scouts to attend Gorham Scout Ranch.
Are you curious what other Scouts and Leaders thought of their experience at Gorham Scout Ranch in 2019?
Check out this informative chart:
"Loved the attitude of the staff - 'how can we help?', no defensiveness, no negatives, just greatness!" ~Troop 205
Gorham Scout Ranch was established in 1972 as a center for outdoor skills training, high adventure, and FUN! Youth from around the Southwest take advantage of our camping and skills programs including climbing, swimming, archery, rifle and shotgun shooting.
Leave a lasting mark at Gorham Scout Ranch: Order an engraved brick for the Lodge's west patio today. Click HERE for more information and to order your brick today.
Gorham houses other excellent camping programs held a Gorham Scout Ranch!!! Check out the exciting week-long programs that enhance your Scout's growth in our Other Program tab!